Chief Career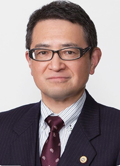 Chief Attorney
Nobuhiro Funatsu
Nobuhiro Funatsu is a graduate of Kumamoto University's Department of Law and Tokyo Denki University's Department of Electrical Engineering.
Nobuhiro Funatsu specializes in patents in the fields of electronic components, telecommunications, computer software and finance. He excels at taking inventions one step further after delving into them and ascertaining their essence.
Nobuhiro Funatsu was born in 1959. He joined Hitachi, Ltd.'s patent department in 1983 and became a qualified patent attorney in 1985 during his tenure there. After leaving Hitachi, he joined Sakamoto and Associates (later Sakamoto and Funatsu). He launched Funatsu and Associates in 2008.
From 2001 to 2003, he attended a series of seminars given in Tokyo by U.S. patent attorney David L. Lubitz on U.S. patent law. The US patent glossary on this website has become a useful tool for those involved in intellectual property and includes much of what he learned from these seminars.
Nobuhiro Funatsu has chaired the international committee of the Benrishi Club (Patent Attorney Club) since 2008 and holds Benrishi Club seminars with foreign lawyers and patent attorneys as lecturers. Notably, when 5 British patent attorneys came to Japan in November 2008, the Benrishi Club held, as one of its seminars, a mock oral proceeding of a European Patent Office opposition proceeding. Attendees praised the seminar for allowing them to experience a proceeding's ins and outs.
Paper: "Business Model Patent Strategies" Development Engineering Latter Edition (2000)